OUR MISSION is to help companies understand how to communicate with Americans who are 50 or older. This population - especially the younger segment - is vastly different from previous generations, and they must be addressed in different ways.
Have you been considering a marketing effort to reach out to older Baby Boomers, who are now in their 50s?
Is the 50+ market "on the back burner?" Maybe you should move it up.
Do you have a marketing effort aimed at this market that needs a new approach?
The Second Half will be happy to meet with you, conduct a strategy session or a seminar with your marketing team or your product development team, to help you understand this population, in all its complexity. We can then conduct the research to complete your information needs.
View Presentation: (5.8 MB)
American Marketing Association Marketing Research Conference, September 27, 2005.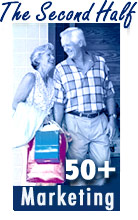 Announcing Opinion50+ Omnibus Study